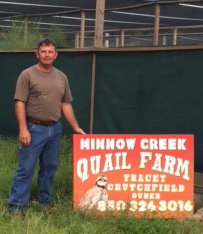 Tracey Crutchfield
Minnow Creek Quail Farm
I'm Tracey Crutchfield, owner of Minnow creek Quail Farm in Graceville Florida. I have been in business for around seven to eight years, each year my business has grown with this growth I strive to make each one of my quail wilder than the last. I would like to thank Ted Everett, owner of Hard Labor Creek for trusting me with his business and I look forward to continuing to provide him with the best and wildest quail possible.



Aaron Kincaid
I have been quail hunting for the last 20 years. I have had a pointer or two in my dog pen since I can remember. Right now I have 8 seasoned dogs on my string and 5 puppies coming into their first season. I love to watch a pointer point and I love to watch a hunter shoot that pointed bird, more than shooting it myself. I have worked for the Florida Forest Service for 24 yrs so either I am working or hunting in the woods everyday. This will be my third season guiding. I am partial to an English Pointer but any dog that will point and hold that point can find a place on my string.



Chris Kohlsaat
Retired from State Farm Insurance after a 30 year career (40 total years in Insurance). Attended Blountstown High, Chipola College, and Troy State University. Acquired first Pointer at the age of 13 and has been a quail hunter continuously for the last 52 years. During this time he has trained numerous Pointers, Setters, German Shorthaired Pointers and Labrador Retrievers. Over the years he has taken many friends quail hunting and is now a professional guide. He enjoys meeting new hunting friends and is a safe and conscientious leader. He has hunted Canadian geese, pheasants, ducks, doves and quail. Member of the Chipola Sporting Clays Gun Club and also an avid bass fisherman.



Jerry Strickland
Jerry is a life-long resident of Washington County. He has been an avid hunter and fisherman all his life. His passion for hunting, particularly quail hunting, has led him to raise and train some superior bird dogs. He has been employed at Hard Labor Creek Plantation for ten years as a hunting guide as well as helping to maintain it as a prime hunting habitat. He enjoys meeting fellow hunters and sharing with them the art of quail hunting and the working of his dogs.